Our Review:
"This podcast is an instant hit. I'm truly impressed by the quality of Breaking Digital- the sound is great and the guests are only top notch. Every episode is filled with a ton of actionable advice that you could go and implement into your biz and make a HUGE difference immediately. Doyle's passion comes through too- can't wait for more."
Ronsley from @wearepodcast
---
The Slow Home Podcast
By Brooke McAlary
We live life in the fast lane. We race to keep up with The Joneses. We are over-worked, over-connected and over-stressed, and we compete on how busy and important and sleep-deprived we are. But we don't have to. There is an ever-growing group of people who are saying no to life lived at 110%. They are opting to slow down, simplify, say no and focus on the things that are truly important. Brooke McAlary, founder of SlowYourHome.com, is one of them, and in this podcast she chats to others who have adopted a similar approach to life: simple living, slowing down, opting out, saying no. Learn what makes people change, how life is different, and what their advice is to anyone looking to get out of the fast lane.
Our Review:
"Inspiring and thoughtful interviews about creating a simple life. His interviews with guests are way more interesting than usual too as he dives deeper than the "what's your background" stories you're used to hearing. Definitely a must listen."
Ronsley from @wearepodcast
---
Joomla Beat Podcast
By Peter Bui
A weekly Joomla podcast helping website owners design, develop, manage and market their Joomla website and take it to a whole new level. Aimed at Joomla beginners, experts and addicts! Get the most out of your Joomla website to make it work for you. Filled with great interviews from Joomla experts, Joomla entrepreneurs from around the world and in the Joomla community, hints & tips on how to better manage and build Joomla websites, news and reviews of what's hot to do with the ever so popular content management system, Joomla! Find out more about the podcast at http://joomlabe.at
Our Review:
"I really enjoy seeing what processes other developers go through as they develop responsively. Peter is brilliant when it comes to building an online presence. The sound quality is excellent and the production values are high."
Ronsley from @wearepodcast
---
Empowered Women Show
By Casey Lightbody
The Empowered Women Show: Stories and secrets from the quiet women who are changing the world Enlightening, challenging and inspiring, this show celebrates the sensitive women with small voices and big dreams who just know they were born to make a difference. Quiet, gentle women entrepreneurs step up and share their personal stories of struggle and success as they strive to change lives and make an impact. From courageous, shy women taking to the spotlight for the first time to the icons of gentle entrepreneurship, these passionate women share their experiences to help you face your fears, silence your doubts and at last fulfil your true potential. Discover their secret fears and vulnerabilities and the brave steps they took to overcome them. Get first hand advice and proven solutions for the greatest challenges that face them. And receive priceless pro tips to help you find your feet as you set about quietly changing the world.
Our Review:
"Great motivational content, as well as actionable info for entrepreneurs looking to develop a full-time income and business online. Love listening to suggestions on how to create money and do your own thing. Good stuff!"
Ronsley from @wearepodcast
---
The Small Business Technology Show
By Ben Love & Ben Dampney
The Small Business Technology Show is hosted by Ben Love and Ben Dampney (otherwise known as B1 and B2), two founders, entrepreneurs, business owners, IT guys, husbands and fathers, who obviously decided that they didn't already have enough to do, so thought they'd start a podcast together. Each episode will be a casual chat about the latest from the worlds of technology and business, sprinkled with some guests, case studies, and anything else that might make good listening. If you're a small business owner or entrepreneur interested in technology, then you'll love this show.
Our Review:
"I listen daily and this podcast gives me more insight than many newspapers I used to read . Most of the episodes of this podcast have genuinely changed the way I think. The things you will learn about the world and about yourself through this series of podcasts is nearly incalculable."
Ronsley from @wearepodcast
---
The 4 Blades Podcast
By Rebecca & Joe Winston
The 4 Blades is the place to bring the best Thermomix / Bimby recipes, ideas and blog posts from around the planet, and deliver them to you in an easy-to-access and easy-to-use manner. We are passionate about food and celebration – and we think that the Thermomix just makes those things so much easier. Join with us as we share some of our best finds from the internet, interviews with lovers of food and celebration and package them together for you in delicious morsels.
Our Review:
"Wonderful hosts, inviting you into the kitchen and showing how to make fresh, simple food that looks just amazing. In addition, the podcast is extremely professional, providing great camera angles and sound quality. If you have any passion about food preparation, pick up this podcast. Thanks!"
Ronsley from @wearepodcast
---
Hot Copy
By Kate Toon & Belinda Weaver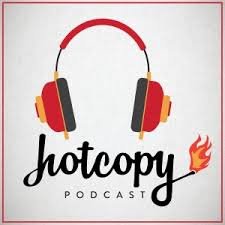 In each episode of Hot Copy, Belinda Weaver and Kate Toon share the secrets of successful copywriters including copywriting tips, shortcuts, writing resources, interviews with other successful copywriters (yes, their secrets too!). And a few laughs, snorts, and giggles along the way. All focused on helping you become a better copywriter. This podcast is perfect for anyone who wants to learn more about copywriting, the writing bits and the running a business bits.
Our Review:
"This podcast is amazing. It has very in depth and intelligent discussion about the art of copy writing that make you see it in a whole new light. This Podcast has been great in that it's not only inspired listeners to start writing again, but it also offers great tips and practical advice to writers of all skill levels. The host is also very easy to listen to and doesn't drone on like some of the writing podcasts I've listened to. If you are looking to laugh, and learn something, I'll recommend this one."
Ronsley from @wearepodcast
---
Our Review:
"Cas finds the nuances of key financial issues and allows us to comprehend their relevance to our world. I very much look forward to the podcasts! Highly recommended for small business owners & anyone who wants to make money."
Ronsley from @wearepodcast
---
Operation Brewery
Our Review:
"This podcast is an informative and humorous commentary. In addition to great sounding audio, the hosts are very casual in discussing market trends, business and start ups and they stick to factual information and don't over embellish stories. It can be quite humorous at times."
Ronsley from @wearepodcast
---
Our Review:
"This podcast is a great resource. It always brings on great guests and shares the smartest tips on how to grow your business. Great inspiration and direction. Thank you very much for putting all this amazing content out there."
Ronsley from @wearepodcast
---
Our Review:
Jenish approach is a perfect combination of brass tacks information and Big Idea thinking that is perfect for the small to mid-sized business owner. It provides a necessary and extremely helpful function for all business owners – he gets the most recent "what's working" information out of the people that bring in business for themselves and clients.
Ronsley from @wearepodcast
---